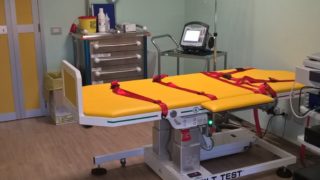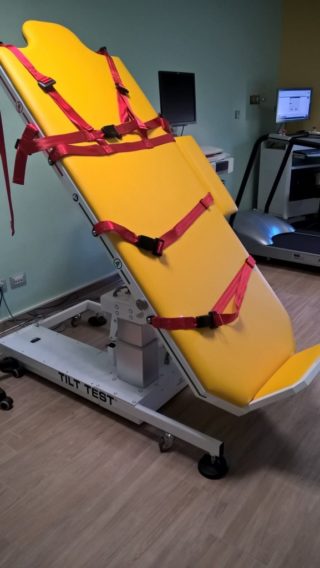 What is the tilt test? 
The Tilt Test (also called HUTT, or "Head-Up Tilt Test") is a provocative test designed to induce syncope under controlled conditions. During the tilt test, the patient passes quickly from the horizontal to the almost vertical position, thus leading to a greater accumulation of blood in the lower limbs: a smaller amount of blood returns to the heart, which then contracts more quickly under normal conditions.
Before the test, a peripheral venous access is inserted and a cuff is applied for monitoring the arterial pressure. Electrodes are placed on the chest to monitor the heart rhythm.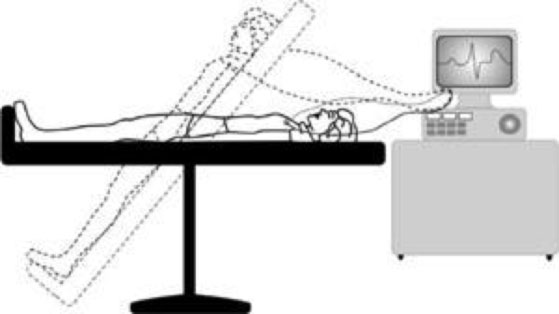 In which patients is the Tilt Test performed?
The tilt test is generally performed in patients with syncope (fainting or loss of consciousness), of unknown origin, in which first-level examinations, in particular the Holter dynamic ECG, did not reveal the cause of syncope. It is generally performed in patients who suspect that syncope is due to a sudden drop in blood pressure or a sudden slowing of the heartbeat, caused by an abnormal response of the reflexes that control cardiac circulation.
What happens during the Tilt Test?
During the tilt test, the pressure monitoring and electrocardiography enables the highlighting of anomalies in the pressure response or in the heart rate. The anomalies that can be found are related to an inadequate increase in heart rate, which can lead to an abnormal reflex reduction in heart rate (cardioinhibitory response), or in a fall in blood pressure (vaso-depressive response). 
These abnormal responses to pressure or heart rate can give rise to a syncope during the examination. The reason why the patient is secured to the bed is to avoid trauma in case of fainting. Once the patient returns to a horizontal position, normal blood flow is usually restored, and the symptoms stop.
The tilt test is performed in the presence of equipment useful for cardiopulmonary resuscitation and qualified personnel able to face any possibility.
If there are no symptoms in the patient, a nitroglycerin pill (or spray) is given to help induce syncope. The drug can cause headaches, nausea, or redness, and the symptoms are generally fleeting.
The tilt test is considered positive if a syncope or other symptoms similar to those previously experienced by the patient are caused, or a lowering of blood pressure or a slowing of the heart rate is considered significant.
How to prepare for the Tilt Test
The tilt test is performed mainly during hospitalization, but can also be performed as an outpatient procedure. The only precaution is fasting at least 6 hours before performing the test. It may, however, be better to avoid driving after performing a tilt test, particularly in the case of a positive test.
 If you want to know more:
If you need to book a Tilt Test click here > Request information and / or Exam