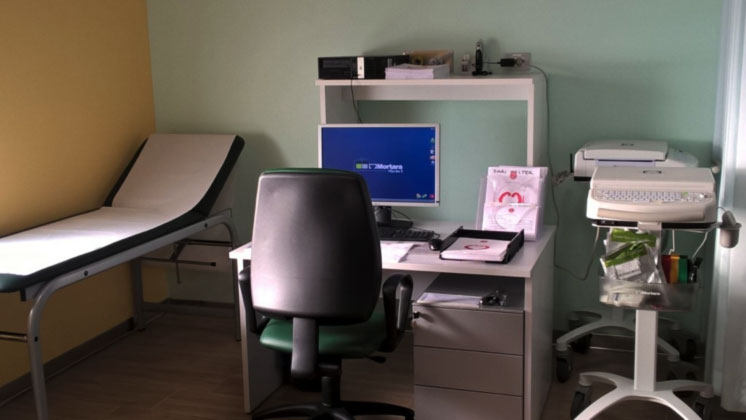 What is the dynamic Holter ECG?
The dynamic Holter ECG (which takes its name from its inventor, Dr. Norman J. Holter) is the monitoring of the electrical activity of the heart through a portable device, which records the heart rhythm for at least 24 hours. 
In addition to the standard 24-hour Holter registration, long-term Holter registration is now available (so-called "prolonged Holter"), weekly or monthly, which allows for more infrequent cardiac arrhythmias, which can give rise to disorders such as palpitations (irregular heart rhythm) or syncope (episodes of loss of consciousness).  
In our center, a Holter monitoring system of the latest generation is used (Mortara Scribe System with Mortara H12 recorders), able to record the Holter dynamic ECG with 12 simultaneous derivations, and to perform the most sophisticated analysis of ECG signals.
For what is the Holter dynamic ECG?
Holter monitoring is prescribed and used to primarily assess heart rhythm disorders (cardiac arrhythmias). More recently, through more sophisticated analysis programs, Holter monitoring has also been used for the study of more specific problems, such as the presence of QT interval prolongation, appearance of Brugada patterns, presence of intermittent ventricular arrhythmias (WPW), silent ischemia, and dysfunctions of the autonomic nervous system. 
Among the cardiac arrhythmias that can be most frequently recorded through Holter ECG monitoring are supraventricular and ventricular extrasystoles, atrial fibrillation or flutter, paroxysmal supraventricular tachycardias, unsustained ventricular tachycardias, bradyarrhythmias and atrioventricular blocks. Arrhythmias may be asymptomatic or symptomatic, i.e. associated with disorders reported by the patient.

Example of frequent ventricular beats recorded during Holter monitoring
How is the Holter ECG recording done?   
The Holter ECG records electrical signals through adhesive electrodes placed on the chest. The electrodes are connected through cables to the recorder. At the end of the recording, the recorded data is downloaded to the central system and analyzed through a program that automatically carries out a first analysis, and highlights the arrhythmias that deserve a specific evaluation by the doctor who reports the examination. 
Currently, so-called "wireless" systems are also available, used mainly in extended Holter recordings, which do not use adhesive electrodes, but instead use electrodes inserted in a corset (vest) or belt system, which the patient can put on and take off independently (for example to bathe).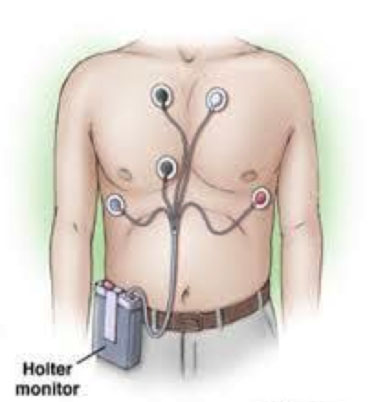 What can I do during Holter monitoring?
Holter monitoring does not require therapy or activity restrictions: on the contrary, it is important to live a life as active as possible during the Holter registration, and possibly to carry out activities associated with the onset of the symptoms being studied. It is important to note any symptoms and changes in activity in the appropriate notebook (diary) in order to relate the symptoms to any rhythm disturbances.
If you want to know more:
2017 ISHNE-HRS expert consensus statement on ambulatory ECG and external cardiac monitoring/telemetry.
Steinberg JS, Varma N, Cygankiewicz I, Aziz P, Balsam P, Baranchuk A, Cantillon DJ, Dilaveris P, Dubner SJ, El-Sherif N, Krol J, Kurpesa M, La Rovere MT, Lobodzinski SS, Locati ET, Mittal S, Olshansky B, Piotrowicz E, Saxon L, Stone PH, Tereshchenko L, Turitto G, Wimmer NJ, Verrier RL, Zareba W, Piotrowicz R.
Heart Rhythm. 2017 Jul;14(7):e55-e96. doi: 10.1016/j.hrthm.2017.03.038. Epub 2017 May 8. Erratum in: Heart Rhythm. 2018 Mar 28;:. Heart Rhythm. 2018 Aug;15(8):1276.
PMID: 28495301